5

min read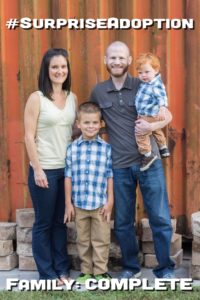 This question might be lingering out there for some. Me, I don't care what people think about our decision to adopt our two stellar boys because I've been in "get off my lawn" status for a solid 7 years already. Something about having issues breathing makes me really not care what other people think about a lot of things. 🙂 On the other hand, I have to still consider my other family members' feelings if anyone is thinking that or (heaven help them) says something to them.
Just married
The year we got married, I'd had a rough medical year with a round of IV antibiotics at least three times and I got a central port placed. Things improved pretty markedly for the first year as I gained weight and shared the load around the clock. Even then, we knew that when we were ready to have kids, if we decided to, we'd adopt. At the time, all we knew about was private adoptions that cost tens of thousands of dollars, so we knew it'd be a few years.
So we just enjoyed each other and the freedom of life with no kids. Other than medical considerations, we had little to hold us back from packing up and leaving for a week or a month. We spent the better part of a month helping my grandma take care of my grandpa when he took a nasty turn with his health.
Something was missing
I was at the peak of health in 2012. My stats were way up and I still had most of my weight from my CF Fatboy time. We had plenty of time because my wife quit her job to stay home and be a home economist… and we doubled her lost income in business gains. We were ready to start a family.
For all the margin, freedom, and fun we were having, there was something missing. Some of our best friends had their first child, and then another, and another. We realized that our margin was full of untapped potential to love more.
In the interest of reading time, I'll condense the next five years of our lives into a paragraph. When we looked into adoption, we learned that you can adopt out of the foster care system for free and change the course of life of a kid who had a rough start. We decided to do foster care instead, to the tune of over 40 kids over 5 years and we adopted the only two who stayed more than 3 months.
The ultimate question
After 6 months with us, one of our fosters was reunited with his birth parents. Words can't adequately describe the pain of coming home to an empty home. That was the moment we knew for sure we needed to have kids around – they made for a life more fulfilling, with more purpose and joy.
I can't recall the number of times my wife asked me a variation of this question to be sure we were doing what I wanted with my life:
If having kids is taking years off your life, are you sure that is what you want to do?
I've never hesitated with my answer. Absolutely. Kids make for a better life, a better funeral, and a better legacy. As parents, we pour our lives into our children in the hopes that something sticks and their lives are better having known you than not.
Who really makes families?
I've had this post in draft for over 2 weeks now. Yesterday, a friend finally put words to what I am trying to convey, so I can't take credit for the concise delivery of this:
People don't make families; God makes families.
If it was all us, we'd be childless because we're unable to have our own because of my CF.
If it was all us but we still wanted kids, we'd have done a private adoption.
If it was all us but we had good hearts, we'd have done an adoption out of the foster system.
That last one is close, but isn't the whole story. We went to an informational meeting about adopting out of foster care and decided to take the class to become eligible. After one class, we both, separately and together, decided to do foster care and not adopt.
Two years later, we were pursuing adopting our second foster placement to be our first son. Our family was complete, as far as we were concerned. He needs a little extra energy from us and attention comes with a price most days, so we were happy as a family of three, though we did wonder if he needed a little sister to have someone his age to play with and care for other than being a selfish only child (like myself).
We had begun fostering newborns who were being privately adopted. They were low maintenance and had happy endings. We took one in after a particularly good family time on vacation. Three months later, we were filling out paperwork and raising money to be his adoptive parents (him, not her – again, not how we even conceived of things).
You see, throughout the last 5 years, we've had so little control of our family planning, it really wasn't our choice to do what happened. All we were was willing to trust that what we thought would be okay in our lives would work out in the end. We didn't have the patience our first boy took to integrate with our family and get ready for school. I didn't think I'd have the health to stay a foster dad for 5 years (I was only on IVs once – and just recently). We didn't have any money saved to pay for a court-contested private adoption.
But God makes families, not us. That is why we are okay having a family of four facing a double lung transplant together. As a family. As a community. As a team.