3

min read
No, I'm not exaggerating. Very exciting, but first, we need context. Today was a clinic appointment as a 1-month follow-up from my feeding tube surgery. I've officially been listed 34 days.
In the last month, I've gained 1lb. I've skipped lots of meals from loss of appetite or feeling full from tube feeding, but a negligible gain is better than slipping down below 100lbs. They spent pretty decent time considering times, amount, and speed of the feeds to try to:
get me more, better sleep
continue eating during the day
ensure I am comfortable feeding at night
We'll see what we work out.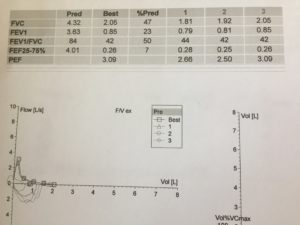 My off-oxygen saturation was 91% with a pulse of 100. My blood pressure was high and my temperature was a tad high for me, so they started considering if I'm needing IVs to ensure I don't get sick and need admission to the hospital. My PFTs showed my FEV1 was a steady 23% and only 0.03L different than last month. If they dropped too much, they were going to admit me. I still may get a call today or this week that we're starting IVs.
The cool, exciting news
We met a different coordinator for the first time today. She walked in and immediately established who my wife was. She said she was one of the coordinators but since we didn't know her name, we correctly guessed she was from the post-transplant side… so I've officially been passed on to the post-transplant staff now. With those formalities out of the way, we were off to talking about health. After a little while she said, "I've been seeing your name printing."
??
When an organ comes available, candidates print out on a list. I've printed out multiple times already! The lungs either went to people with a higher score than me or the lungs were not accepted by the surgeon.
I can't remember if I talked about a "dry run" yet, but we have new readers, so here we go. A "dry run" (or "try run") is when you get "the call" and go in. They draw blood, check you out from head to toe, you shower, change, and generally get ready for surgery. You can be eliminated that day for dozens of reasons, but if you're healthy it's pretty good you're set.
Meanwhile, one of the surgeons from Tampa goes to the donor lungs (they may be local) to check them out there. He then decides if they are viable for transport and transplant. The lungs can be eliminated right then and there.
Then the lungs travel (or wheel) to the center and when they get close, you're prepped for surgery. Everyone gets their hugs and prayers in and you're wheeled into the cardio-thoracic transplant suite. The transplant can be stopped at any point here, even after going under, as happened to another person recently. I can assure you, that would be devastating for me for several days.
You could also be a secondary call. The primary may fail the blood test markers or have unsuitable vitals that day and you'd get bumped up. If not, it's at least a dry run for you, if not both people.
So a "dry run" is a lot of hype and adrenaline with no happy ending. However (!!) it is a "try run" because your entire support network kicks into gear and you find out what fell short and what worked great. It's more common than not to get at least one dry run before a successful transplant.
That's exactly where I am now. I could easily be a secondary call from looking at the donor database and hearing that I'm printing out. I could be a primary, depending on the tissue type or donor height or, or, or.
The call could come any day.